Janusansikte är det sjätte äventyret ut i 20.000 tecken serien. Äventyret är skrivet för Battlestar Galactica. Tyvärr är det här utmärkta Cortex-baserade rollspelet out of print hos Margaret Weiss.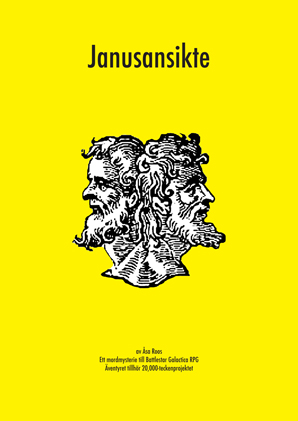 All of this has happened before. All of this will happen again.
I skuggan av de hastigt uppallade lådorna höll han henne tätt intill sig. "Allt detta har hänt förut. Allt detta skall hända igen", viskade han medan han lät kniven glida sakta över hennes kropp. Hennes flyglinne var fläckat av knivens ingrodda blod, men eggen var vass, ack så vass.
Hon stönade lätt, ögonlocken fladdrade upp allteftersom hon tog sig ur medvetslösheten. "Du är människa" viskade han. "Du vet inte vad som driver oss andra. Vi som blev fördrivna från kolonierna. Nu är vi tillbaka. Nu vill vi ha hämnd!"
Med en snabb rörelse drog han kniven över kvinnans hals, men missade artären. Kvinnan föll framåt över lådorna och lådorna dråsade i backen med en högljudd krasch. Med blodet droppande från kniven flydde han korridoren och sitt senaste offer.
Fem dagar senare vaknar piloten upp ur sin narkos och berättar vad som hänt. De flesta är överens. Ibland dem finns en cylon, programmerad att döda.
Läs även andra bloggares åsikter om rollspel, spel, äventyr, Janusansikte